ViewGuard Security Info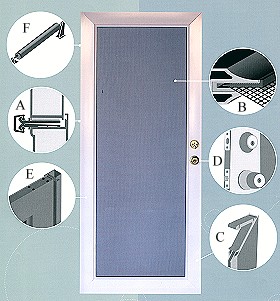 No Other Door Can Pass This Security Screen Test


A. CONTINUOUS GEARED HINGE SYSTEM
Tested to open and close 100,000 times - the most reliable and durable in the security door industry.

B. STAINLESS STEEL MESH
Made from marine grade stainless steel mesh (painted black) offers corrosion resistance in salt air environments. Stainless mesh is integrated into the heavy duty aluminum door frame using a PVC clamp that prevents galvanic deterioration.

C. HIGH TENSILE STRENGTH ALUMINUM EXTRUDED FRAME
Manufactured from 6063-T5 architectural grade metal and engineered using 50% thicker material than other manufacturers' steel doors. Extruded aluminum corners lock the frame together using eight stainless steel screws.

D. VIRTUALLY PICK PROOF
All Tru-Frame security screen doors are fitted with an integral cover that prevents entry. Optional locksets and deadbolts are provided from the factory or may be purchased separately to match existing prime door lock.

E. PRE-HUNG FRAME FOR EASY INSTALLATION
Simple and seamless heavy duty pre-hung frame with stainless steel one way screws that prevent tampering and are concealed withnylon caps.

F. HEAVY DUTY PNEUMATIC CLOSER OPTION
With wind chain to adjust closing speed of door.